You've got to feel for the beleaguered residents of the South Waterfront neighborhoods in Portland, Oregon. The Immigration and Customs Enforcement (ICE) facility there has been the site of numerous protests in recent years, including a 5-week Occupy in 2018, but the chaos went into overdrive after the death of George Floyd. Floyd's demise had nothing to do with immigration, the Feds or Portland, but the BLM/Antifa frenzy in Portland targets any and every symbol of authority, from dead presidents to a bronze elk who must have been a Trump supporter.
The Portland Police Bureau has put together a colorful timeline of insurgent activity in the City of Riots. It shows riots and arson outside the ICE facility on August 19, 20, 26, protests on September 9, 18, October 6, 16 and 20. Police tweets report further unrest on October 17. The not-quite-a-riot "protests" include lobbing projectiles at police, screaming, and marching through residential neighborhoods shouting "Wake Up, Motherfucker!" through a bullhorn. At great personal risk, independent journalist Andy Ngo has been documenting Antifa anarchy in Portland for years:
The ICE facility is protected by Federal officers and, unlike local law enforcement, Club Fed has not had it's hands tied by the city's virtue-signaling mayor Ted Wheeler or Multnomah County's SJW district attorney Mike Schmidt. The Feds are free to use tear gas and charge rioters with federal crimes, thereby avoiding Schmidt's catch-and-release program. (The city is now seriously considering disbanding the police department entirely and turning law enforcement over to Multnomah County.)
Residents of South Portland are now treated to CS gas fumes, beating drums, chanting and screaming crowds and, on the nights when things head south, urban warfare. Rioters have set mattresses on fire and lobbed rocks, bottles, paint balloons and mortar-style fireworks at police. Usually federal police.
During the 2018 occupy, Portland's feckless mayor Wheeler refused to send in local cops. Wheeler allowed protesters to set up an illegal tent camp, blocking streets and shutting down the federal facility. Immigrants who had made appointments or needed services were shut out. Patients needing access to local medical services, including cancer treatments, were obstructed. To protect the facility, the feds erected a fence, which the city promptly cited for violating code. The camp was finally cleared at the urging of the new African-American female police chief Danielle Outlaw, who quit Portland the next year.
This is not a low income neighborhood. South Waterfront is one of Portland's newer redevelopment efforts, a mix of condos, trendy shops, eateries and office space served by a new streetcar line. Oregon Health Sciences University has facilities a few blocks from ICE; there's a Tesla dealer next door. Protesters often meet at nearby Elizabeth Caruthers Park, a small patch of green adjacent to towering condos and mid-rise apartment buildings.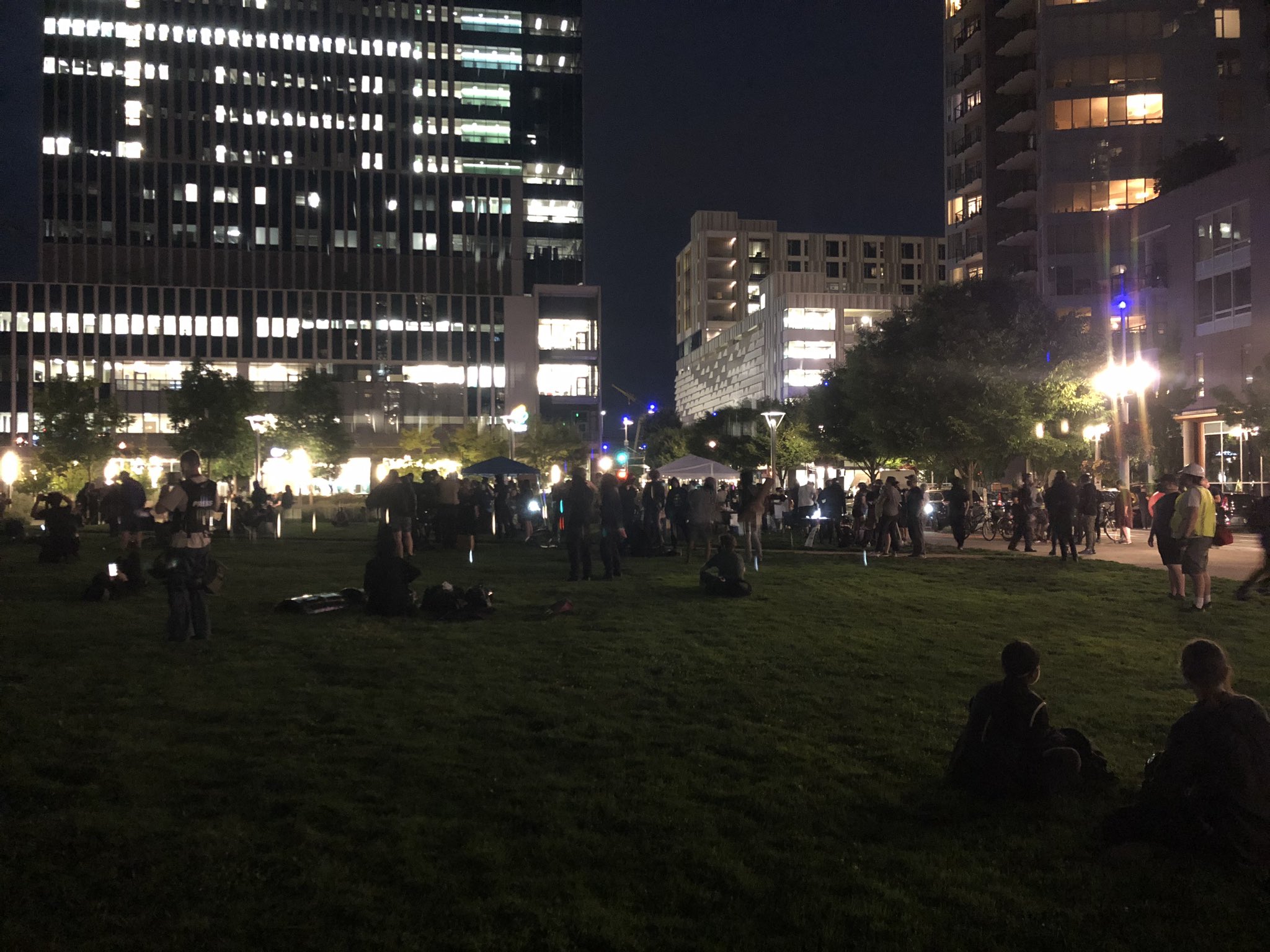 Drumbeats and screaming rioters aren't the only disturbances keeping Waterfront residents awake. There are also police bullhorn announcements warning activists not to set fire to the ICE building or to move off roadways.
Mayor Wheeler, who is also the police commissioner, is up for re-election and falling far behind in the polls. But South Portland residents aren't likely to get any relief if his opponent wins. Sarah Iannarone, who describes herself as "the antifa mayor", is so much further left than Wheeler that local conservative talk show host Lars Larson is reluctantly telling listeners that Wheeler is the better choice. Protesters clearly have a friend in Iannarone who tweeted "Goddamn tired of watching reporters, medics, legal observers, peaceful protesters, and, yes, vandals getting targeted, arrested & assaulted by Portland Police. F*ck you, Ted Wheeler, seriously." Residents of South Portland can look forward to a winter of Fire and ICE.